4C and UCLA Chi Alpha Delta presents Project LOVE
Written by
admin
on January 14, 2010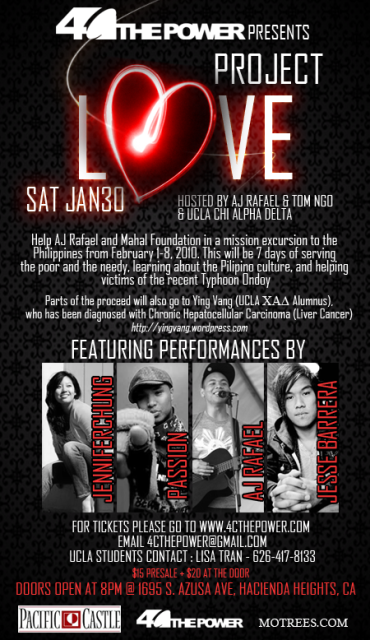 Please join 4C the Power and hosts AJ Rafael, Tom Ngo and the Chi Alpha Delta Sorority of UCLA as they present Project LOVE with performances by
AJ Rafael, Passion, Jennifer Chung, Jesse Barrera
and other surprise artists. AJ Rafael joins with the
Mahal Foundation
in a missions excursion to the Philippines from February 1-8. This will be 7 days of serving the poor and the needy, learning about the filipino culture, and helping victims of the recent typhoon ondoy. They will also be helping impoverished school children to read and find joy in music. AJ and the Mahal foundation have a great passion to end poverty in the Philippines. This event will also raise funds for Ying Vang a Chi Alpha Delta Alumni who has been diagnosed with liver cancer.
Date:
Saturday, January 30, 2010
Location:
Hacienda Center 1695 S. Azusa Ave Hacienda Heights, CA
Showtime:
8:00 pm
Tickets:
$20 at the door (only a small amount available at the door)
Purchased tickets will be available at Will Call beginning at 6pm.
Ticket sales at the door will begin at 6pm
Artist merchandise will be available for sale.
For questions please email 4cthepower@gmail.com