UPCOMING 4CTHEPOWER WORKSHOPS!
Written by
admin
on October 14, 2009
4cthepower is proud to bring you Gamblerz Crew to Los Angeles during the month of November. There will be two workshops taught by them and one show including Kaba Modern and lots of other great acts!
FIRST EVENT: WORKSHOP on November 6, 2009
Event: 4cthepower workshops at Wilson High School
[these workshops are for Wilson High School students only, if you do not attend this high school and would like to attend a Gamblerz Workshop please read the "THIRD EVENT"]
SECOND EVENT: SHOW on November 7, 2009
line up for the show: Kaba Modern (featured on MTV's America's Best Dance Crew Season 1) Gamblerz (World renowned B Boy group, Battle of the Year 2004 Winners) Vudoo Soul (appeared on American Idol) Seriously (Winner of Kollaboration) Clara Chung (Winner of ISA 09 JCPenney Schooled in Style Breakout Performer) IZ Alex Shiau ft. Vivian Chen Catterfly Jamie Hardy
Event: Benefit Concert for Wilson High School Date: November 7th Time: 11am-5pm Cost: FREE!!!!!!!!!! Location: Hacienda Center located on the corner of Colima and Azusa in Hacienda Heights across from the Puente Hills Mall aka the 99 Ranch Plaza -Address: Hacienda Center 1605-1695 S. Azusa Ave, Hacienda Heights Purpose: On November 7th, 2009 the Hacienda Center, located at 1605-1695 S. Azusa Avenue in Hacienda Heights, CA (on the corner of Colima and Azusa where the 99 Ranch Market is located) will be hosting a benefit concert event from 11am to 5pm for Glen A. Wilson High School. The purpose of this event is to help collect donations from the community to support the school's budget. Wilson High School enrolls approximately 1,700 students but has a significantly reduced budget this year. The Hacienda Center intends to host this concert with the hope that the local community will embrace Wilson High School with services and donations that will better the future of the youth. The event will be held in an approximate 25,000 sq ft. closed off parking lot pad located within the center Donations will be accepted!! Come out and support Wilson High School! This is a FREE Concert open to everyone!! Bring friends and family!! Food will be sold by Wilson High School at the event!! 100% of donation proceeds go to Wilson High School!!! Meet and Greet with artists after the event!! If you have any questions please email jchang@pacificcastle.com
THIRD EVENT: WORKSHOP on November 8, 2009 [THIS EVENT IS OPEN TO EVERYONE!]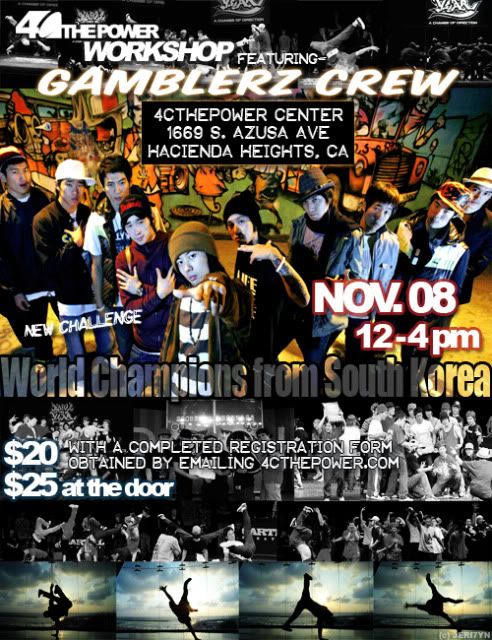 Event
: 4C the Power Gamblerz Crew Workshops
Date:
November 8th
Time:
12-4 PM
Cost:
$20 [when you bring a printed registration form filled out] OR $25 at the door.
How to Pre-register for these workshops: please email your request to 4cthepower@gmail.com and a registration form will be emailed to you. Please complete this form and bring it on the day of the workshops along with your $20 registration fee.
Location:
4C THE POWER CENTER 1669 South Azusa Ave, Hacienda Heights
Purpose: 4C The Power Goals
The goal of the 4C The Power Program is to provide standards-based trainings by professional artists for youth in the area of the arts so they will become more engaged in school which will result in an increase in high school graduation rates. 4C The Power is also designed to assist students in building confidence through learning about their awesome potential through their own creativity, culture, and responsibility to the community. 4C The Power Program Objectives 1. Mentoring youth and college students for leadership development. 2. Standards-based trainings for grades 7-12 that incorporates the 4 C's of "Creativity, Culture, Community and Confidence" 3. Evening performance by the professional artists conducting the standards-based trainings and selected youth identified from those trainings. 4. Follow-up progress monitoring via interactive technologies that assists youth in continuing to work on the projects begun at the training. 5. Professional artists are able to give back to the community by training youth and performing at the evening show. if you have any questions or concerns feel free to email 4cthepower@gmail.com
WE HOPE TO SEE YOU ALL THERE!